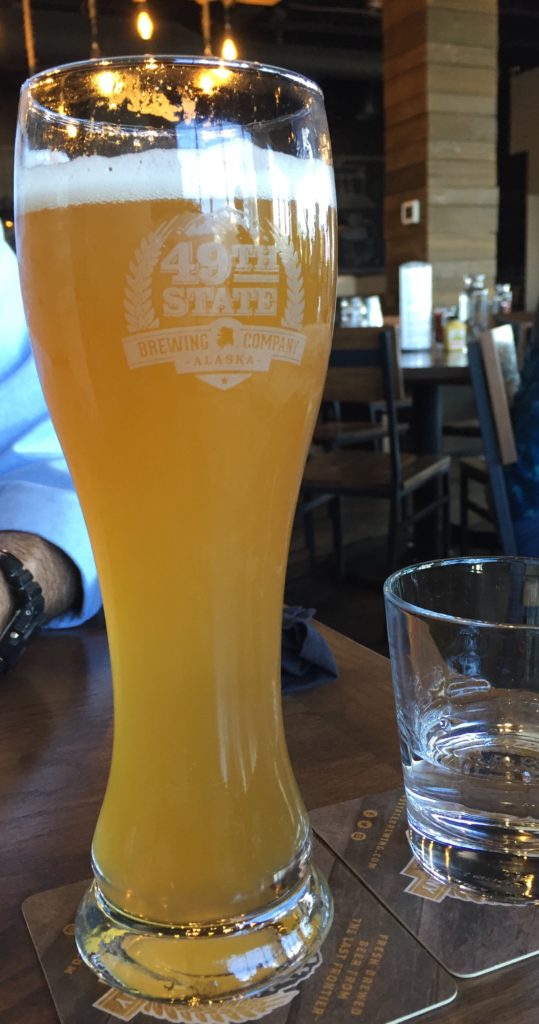 49TH STATE BREWING COMPANY, ANCHORAGE, ALASKA
Hours: 10:30 a.m.-1 a.m. daily
Menu: https://www.49statebrewing.com/wp-content/uploads/2016/09/49state-LUNCHmenu.pdf
Suitable for: Vegetarians, vegans, omnivores
Today, we continue our Alaskan adventures with a culinary stop at the 49th State Brewing Company in downtown Anchorage. This outpost is the second of the 49th State's two locations – the first is in Healy, just outside Denali National Park – and is fairly new on the restaurant circuit down in Anchorage.
If you've been to the original 49th State, you'll find this to be quite a different ambiance indeed! Whereas the Healy location is rustic, a sort of hiker-meets-biker bar, the Anchorage location is more polished, but also still quite homey and cozy despite its labyrinth of rooms and levels. Whether you grab a seat at the bar, a deck table on the second-floor patio (get in your sunshine while you can in the summertime!), or in one of the indoor dining rooms, you really can't go wrong. There's something fun to look at no matter where you're seated.
Now, the first thing to do at the 49th State is order a beer. And you've got a lot of choices to ponder, none of which are bad. Often, what you find at the Healy location will not mirror what's offered at Anchorage, and vice versa, so use this as an opportunity to try new things throughout your Alaskan tour! The Solstice IPA does its genre proud – with a robust flavor and plenty of hops, it's a hearty selection that has a bit of a bite. And if you spy the Just the Tip on tap, by all means, order it. The rotating selection has a bit of a fruity nose and the twang of Sitka spruce on the back.
Once you've made your beer selection, it's time to consult the dining menu. Vegetarians will have a field day with the multitude of options, each helpfully highlighted with a little green leaf. (Vegans, naturally, will also find this quite useful as a starting point!) From munchies like avocado fries – breaded strips of avocado with a "brushfire" dipping sauce – and crispy cauliflower to a passel of pizzas, there's a goodly amount to choose from.
And speaking of pizza: Vegans will be pleased to see that Daiya mozzarella is in abundance here and can be added or substituted on pizzas at will. This opens up the menu considerably! There's even a "Vegan Tundra" pizza selection featuring spinach, mushrooms, and caramelized onions with a marinara sauce.
Veggie lovers of all stripes ought to consider the burger selection, by the by. The 49th State uses Beyond Meat patties, which can be substituted on any burger option. My favorite is the Mount Susitna minus the cheese; with grilled mushrooms and roasted garlic alongside, the patty sings with flavor.
The next time you're in Anchorage, be sure to drop by the 49th State and sample the wares. From the brews to the menu to the ambiance, it's the total package for all culinary tastes.
:)