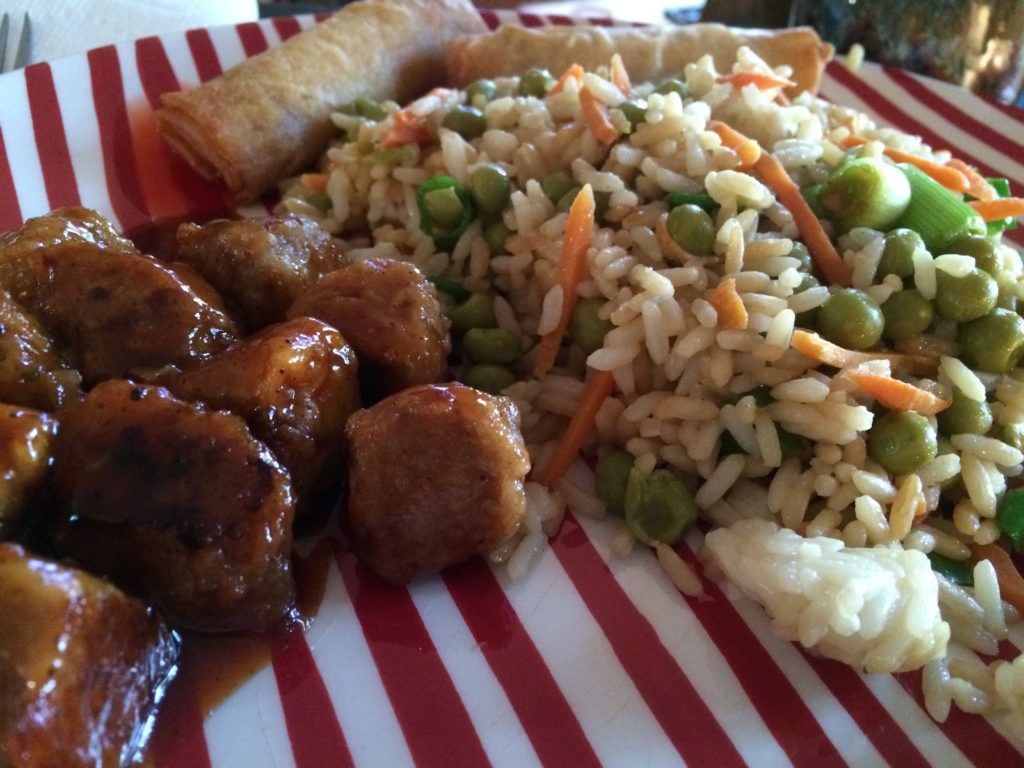 Ahhh, Chinese takeout-at-home night! I love whipping up a takeout meal in faster time, and with better results, than we'd get if we were actually picking dinner up from someplace.
As usual, our veggie fried rice was the anchor of tonight's dinner, but it had a twist! Instead of the usual seitan, tonight we tried out Gardein's new sweet and sour "porkless bites" to serve alongside the rice. The prep couldn't have been easier – just a few minutes of heating-up time in the pan and then a minute to mix the sauce in and let everything marinate – and the final result was glorious!
And the fried rice itself turned out quite nicely too. I trotted out my trusty recipe from Christy Jordan at the Southern Plate and got straight to work, omitting the eggs and tweaking the seasoning a little bit based on what I had on hand tonight (swapping onion powder for garlic powder, for instance). Within minutes, everything was ready to eat, and LeeLee and I sat down to begin the feast!
I don't mind telling you that there's not a single grain of rice nor molecule of sweet and sour "pork" left. Nor are there any of the four spring rolls I heated up in the oven. These things happen when we're hungry and the food is good! Chinese takeout-at-home never disappoints.
:)