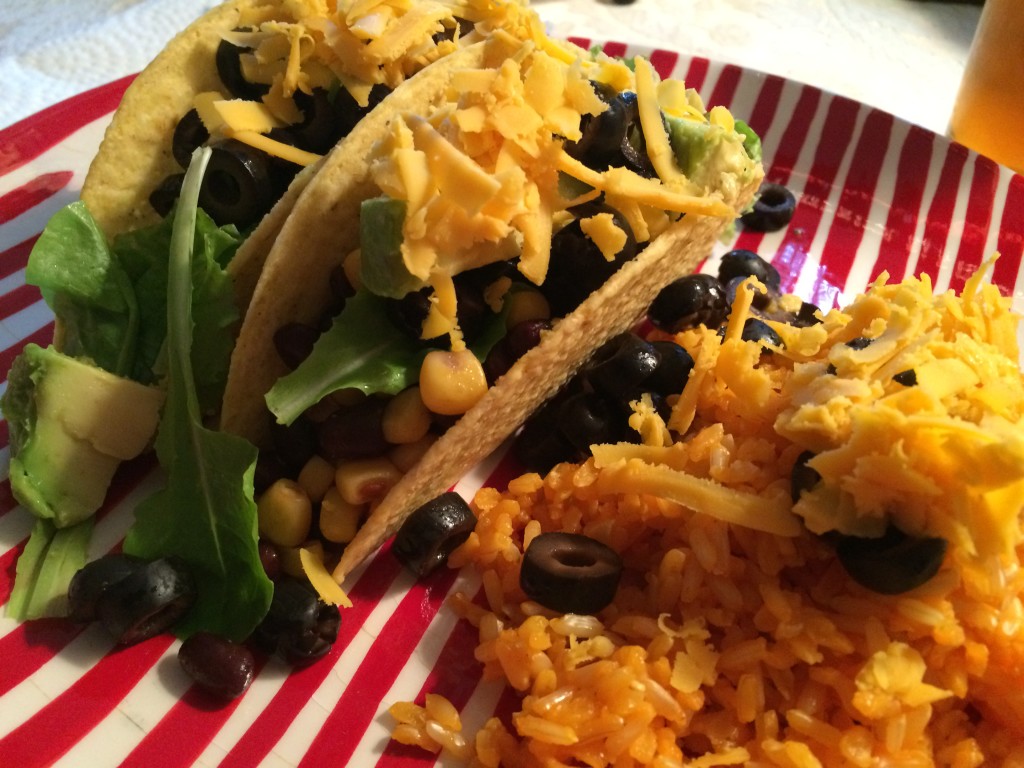 We must be on a Tex-Mex theme this week: First tortilla soup, and now black-bean salsa tacos! We must also be on a Make-Ahead Vegan Cookbook theme, because as it happens this recipe also comes from its pages. We're working our way through it, meal by meal! And we haven't been disappointed yet.
These tacos are so incredibly simple to make, and the greatest part is, they can be prepared in advance and heated just before serving. In the microwave, at that! So while the rice cooker hummed away, I heated the bean, corn, chipotle, and spice mixture up in a suitable container and then warmed up some taco shells (you may remember we have a combination microwave/convection oven, so they can't run in tandem). When the rice was ready, so was everything else, so LeeLee and I sat down to eat.
These black bean tacos are amazing! The mixture of beans and corn fused beautifully with the cumin and chipotle pepper, and a squeeze of fresh lime juice sent everything over the top. There are also some "hidden" ingredients, such as coconut oil and balsamic vinegar, that you can't pick out of the flavor profile (or at least I can't) but that surely add a heft to the dish. A delicacy, indeed!
LeeLee and I each mowed down two tacos as well as our fair share of rice, and were very pleased to see that we've got another serving's worth for tomorrow. We'll both vie for it – who'll win? Time will tell! I'll report back.
:)