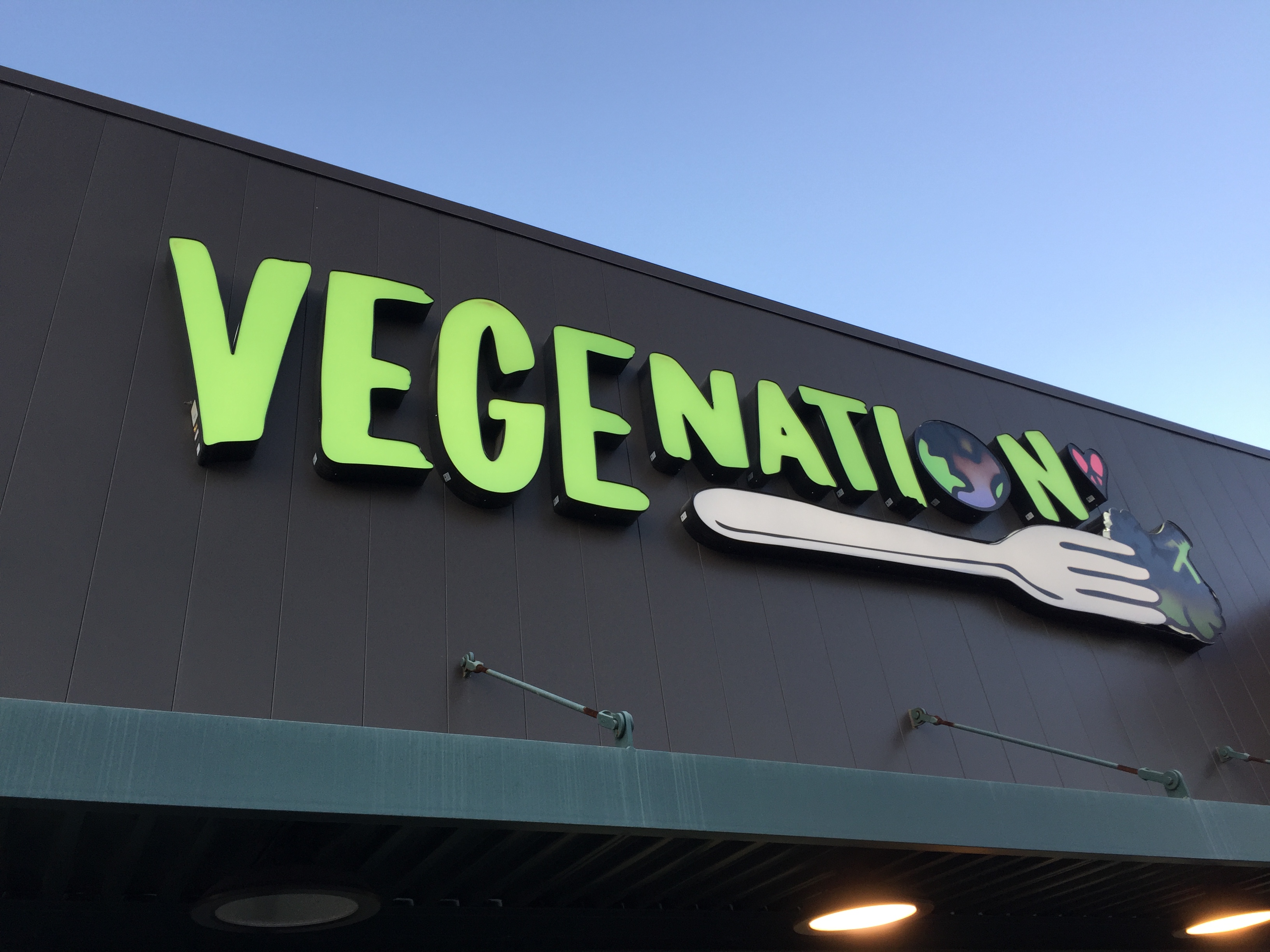 Vegenation
616 E. Carson Ave., Suite 120, Las Vegas, Nevada
Hours: 8 a.m.-9 p.m. Sunday-Thursday; 8 a.m.-10 p.m. Friday-Saturday
Menu: https://vegenationlv.com/lunch-dinner-menu/
Suitable for: Vegans, vegetarians, omnivores, lovers of great food
It's no secret in this day and age of social media and Instagrammed everything that Las Vegas has become a bastion of wonderfully diverse plant-based cuisine. From brunches to lunches to dinners to snacks to, oh, wonderfully decadent desserts, there's a menu for every hungry traveler in Sin City. But if you're going to choose just one eatery to visit while you're in town, there's simply no question: You need to make it Vegenation.
I don't say this lightly. As you'll see in the coming weeks (spoiler alert!), during my recent travels to Vegas I stumbled upon a wealth of wonderful options for every meal. But Vegenation makes it to the top of the heap, hands down. No matter the time of day, you'll find a great meal – and friendly service, to boot.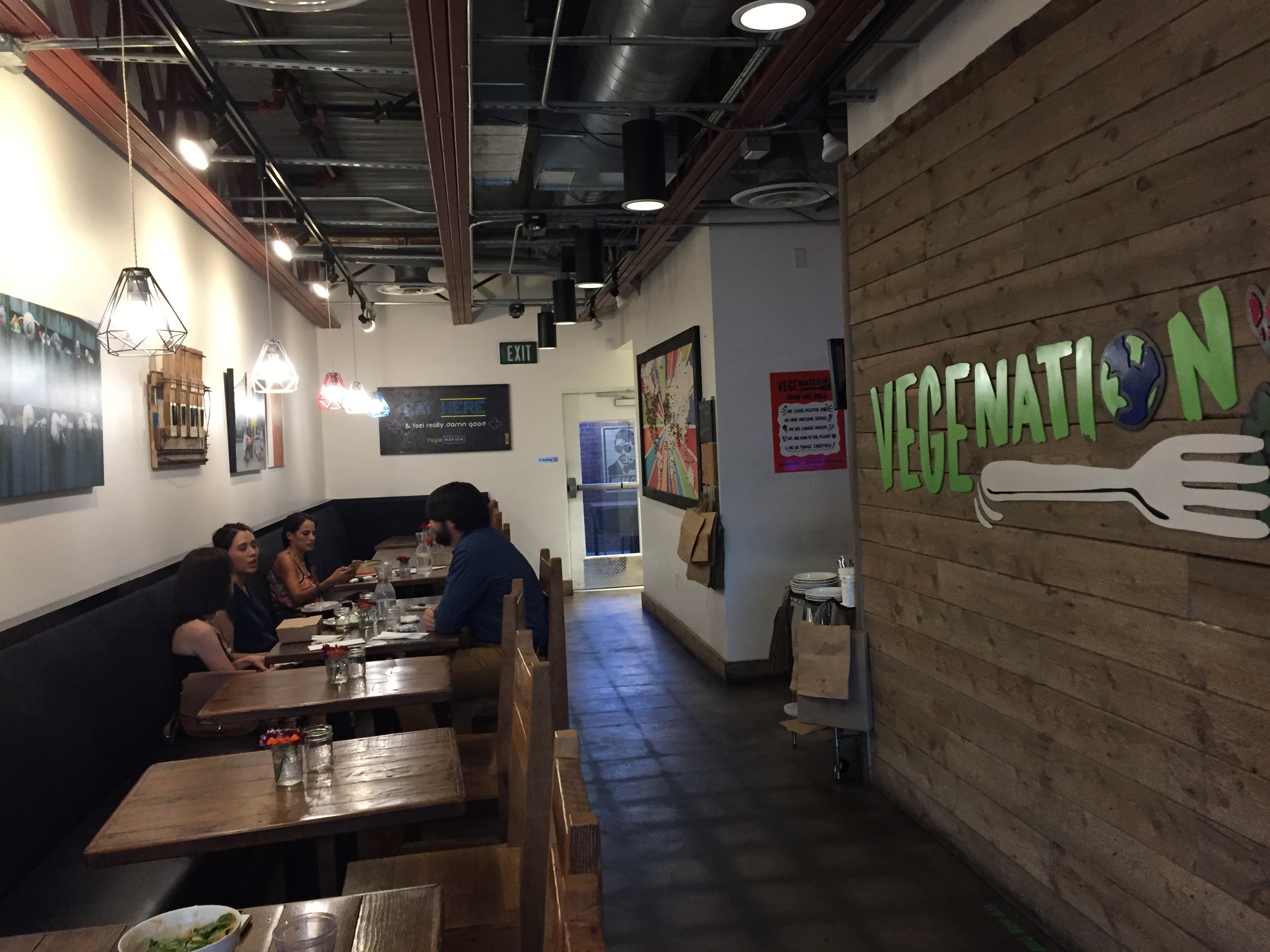 As it happened, LeeLee and I found ourselves there in the dinner hour, having planned to spend the evening in the nearby Fremont Experience, several downtown blocks of Fremont Street that offer entertainment every few feet and, yes, a dizzying array of lights overhead along the covered path. Before night fell, we scooted over to Vegenation, rolled up our sleeves, and were instantly awash in options the likes of which we hadn't seen in a long time.
Vegenation does a masterful job of blending the comforting with the obscure. Where else can you find spaghetti and meatballs alongside an African yam stew? And where, pray tell, can you find it all plant-based, without a shred of meat, dairy or eggs anywhere on the menu?
I thought not. ;)
If you find yourself wandering aimlessly through the menu, unsure of where to go next or what to choose, rest assured you can rely on your friendly waitstaff to point you in the right direction. Our server, Gabriella, was incredibly helpful in helping us narrow down our selections, and she was right on the money every time.
For instance: Bao buns or cheese plate for appetizer? Gabriella encouraged us to go with the cheese plate, which is made locally by Virgin Cheese, and she was certainly not wrong. The gouda, pepperjack and port-wine cheeses were popping with all the appropriate flavors without being cheap imitations of dairy varieties, and they each held their weight when plopped on wasa crackers or apple slices. The strawberries and blueberries were a nice touch, too.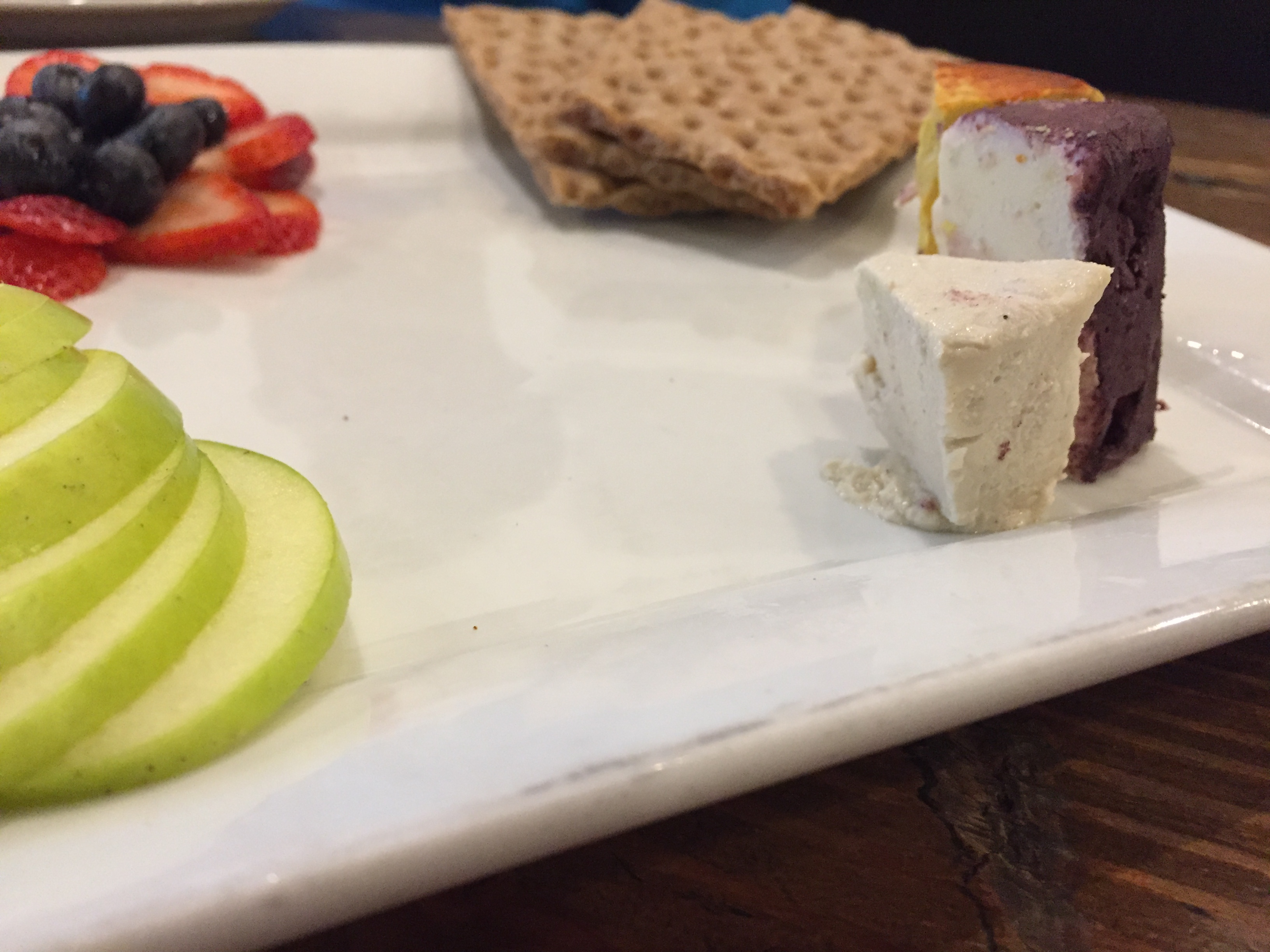 LeeLee and I diverged when it came to our entrees, but we both came out on top. He ordered the Holy Mole, a chik'n dish drowning in mole sauce, with a kale slaw and bean and rice alongside, finished out with corn tortillas to make the whole thing into a taco if you felt so inclined. (LeeLee did a little bit of both, eating some piecemeal while compiling other bites into that taco.) The mole sauce was the perfect balance of piquant and sweet, the beans and rice were teeming with Cuban flavor, and the kale slaw! I could have eaten an entire plate of it alone. (As it stood, I made light work of a good bit of poor LeeLee's.)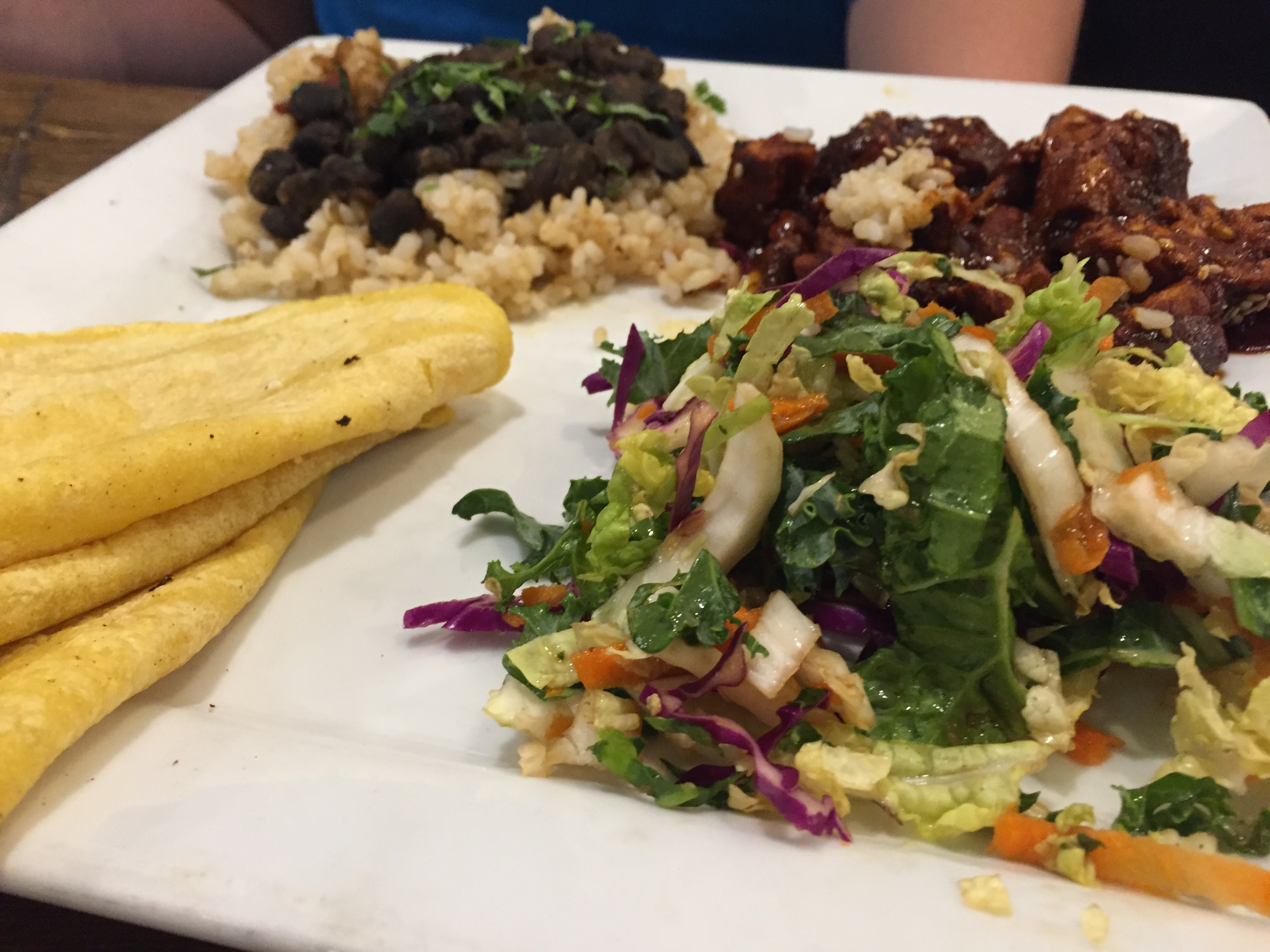 Meanwhile, I went the comfort-fusion route with a chik'n pot pie gnocchi, which is exactly what it sounds like. Wonderfully pillowy gnocchi bites are nestled in a rich, creamy gravy, pockmarked with peas, carrots and, of course, chik'n, all topped off with a pie-crust crumble. I admit I did worry that the whole thing would be much too heavy as a finished product, and while this wouldn't be considered a "light bite," it wasn't overly rich or difficult to work my way through. By the time I cried uncle, only a smattering of gravy was left; the pasta, chik'n and veggies were a thing of the past.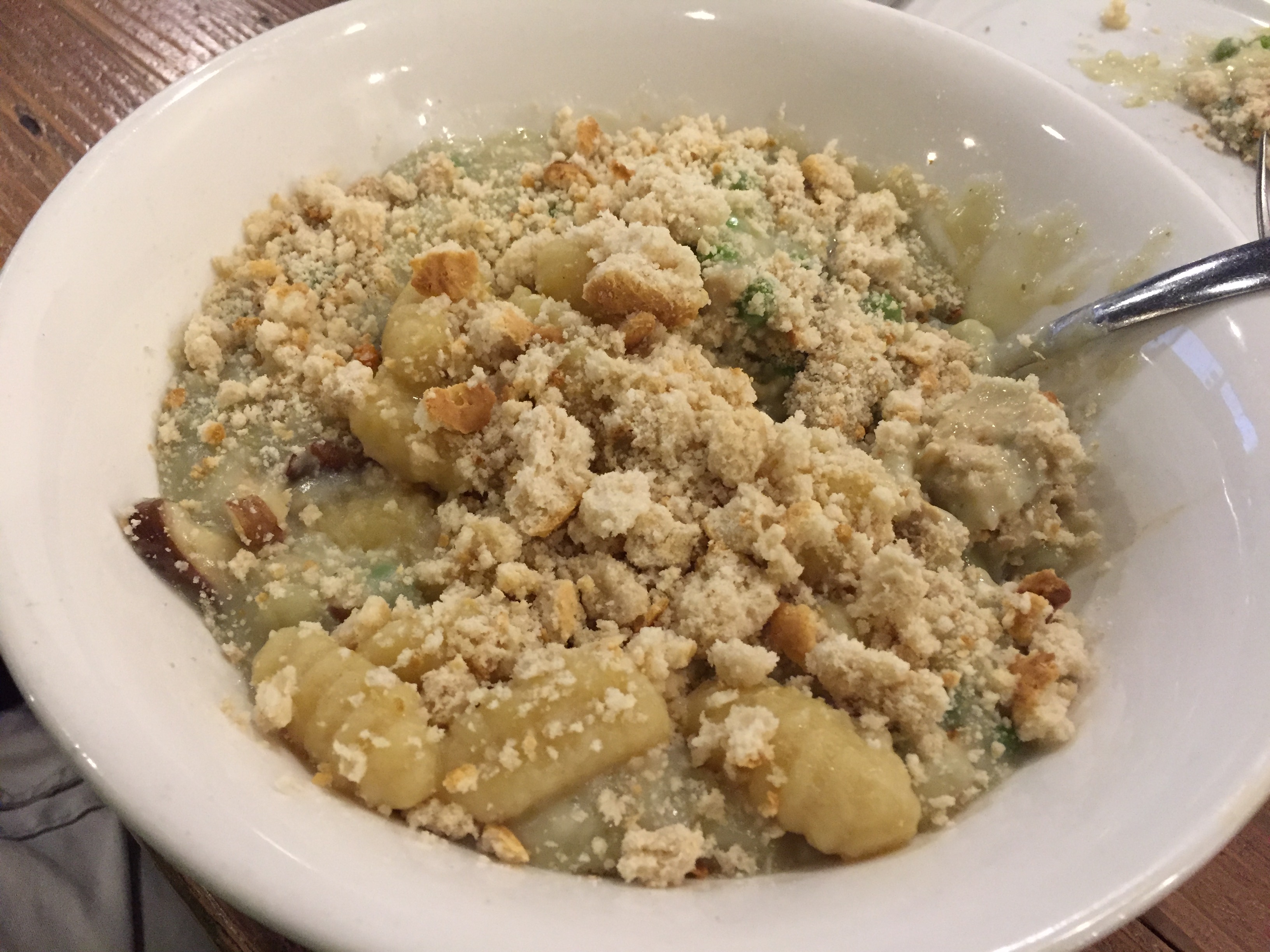 We decided to forgo dessert, since it was practically going to take the jaws of life to extract us from our table anyway after the damage we'd done to our meal, but there wasn't a sweet option I would have removed from consideration if we'd decided to go on with a third course. What especially intrigued my eyes was the mango sticky rice egg roll – so many of my favorites, in one neat and tidy dessert! Next time, we'll be sure to dive in.
We walked off part of our meal – a small part – on Fremont Street after bidding goodbye to our wonderful hosts at Vegenation, safe in the knowledge that we would go to bed with full stomachs and full hearts. And the next time we're in Vegas, we know just where we'll be enjoying more meals! You should, too. Make it a priority.
:)