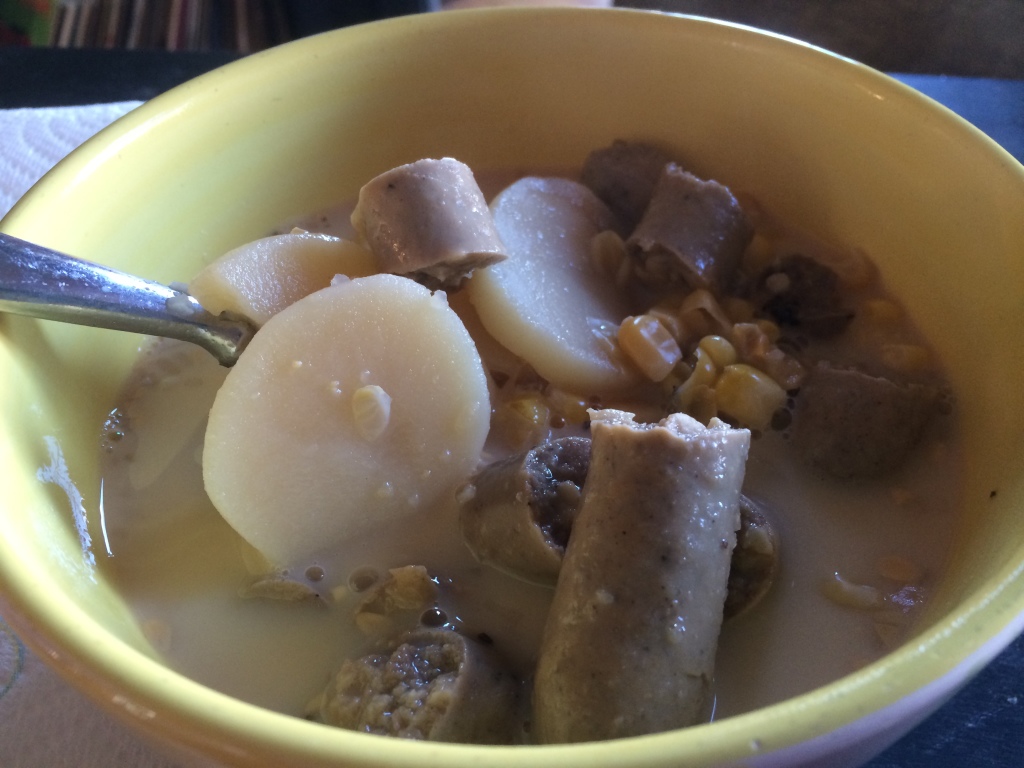 Wait a second, I can hear you saying, index finger raised in the air to accentuate the point. Today isn't Crock-Pot Monday. It's not even Monday.
You're right. And I offer only three words in response: Family is visiting.
We did in fact enjoy a Crock-Pot creation last night, and I am in fact blogging about it now, a full day after the blessed event occurred. Because after dinner (and my tai chi class) last night, we all had such a fun time touring the Alexandria waterfront and then catching up on the rest of the day's at their hotel that by the time I came home at the ripe old time of 11 o'clock, I simply collapsed into bed.
So. Here we are. Shortcut vegetarian sausage-corn chowder!
I've made the regular recipe for this chowder a hundred times, and blogged about it fairly often, I know. But yesterday, time was certainly at a premium, and I had only a few minutes to throw something into the slow cooker before dashing off to work! Hence the shortcuts – which worked just perfectly, I've gotta say.
As usual, I added a batch of sliced breakfast soy-sausage links to the Crock-Pot along with two cans of corn (one kernel, one creamed) and a hearty dose of basil, salt, and pepper. But where I'd usually add hand-diced onion and potatoes, I went the shortcut route instead and replaced those ingredients with dried minced onion and two cans of sliced new potatoes. Then I topped the whole thing with two cups of water, as usual, and cooked the chowder for about nine hours.
Once I got home from work, I added a can of evaporated milk to the slow cooker, stirred it around, and waited for the chowder to heat through. Then LeeLee and I dug in – and we were thrilled by how the shortcut turned out!
The potatoes held up just perfectly – no mushiness at all, which I admit I was slightly nervous about. And though we missed the texture of the diced onion, the dried minced onion added a nice flavor in its place. The rest of the chowder was perfectly on par with previous renditions, so we had nothing at all to complain about there!
Will I always employ the shortcut method for my sausage-corn chowder from now on? No way. I love the process – and the end result – of dicing vegetables and taking the extra time to do it by hand. But when days are packed and time is short, this shortcut chowder fits the bill in a jiffy. I love when a kitchen experiment pans out in the end!
:)