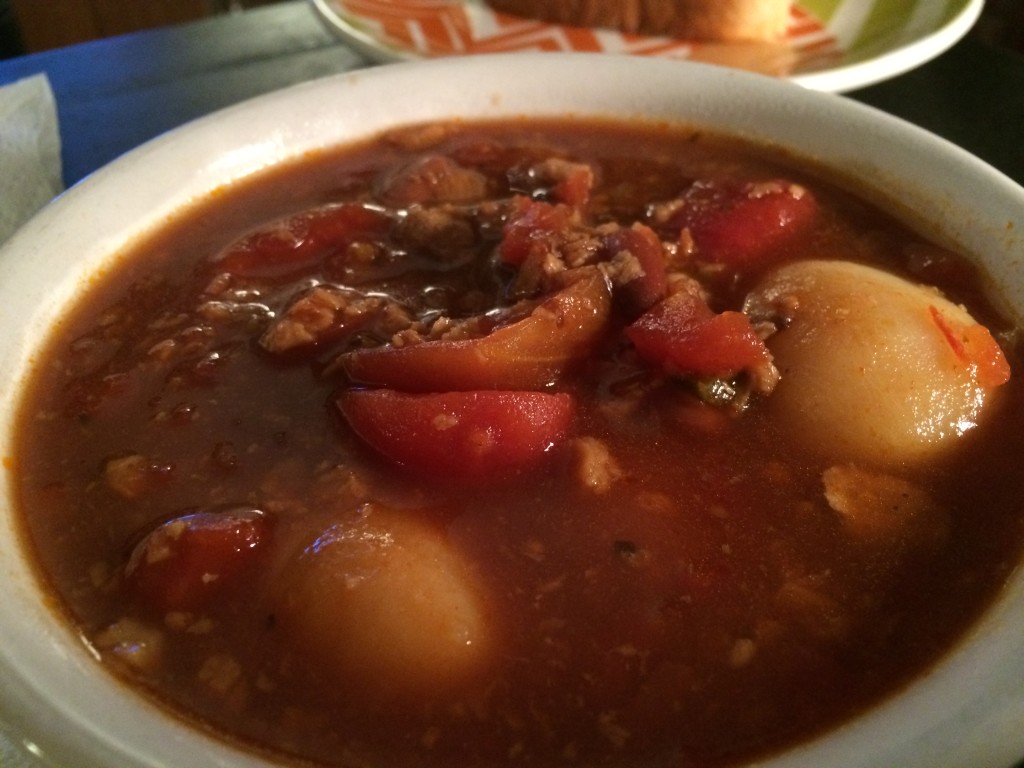 Boy, was I happy to see (and smell) the Crock-Pot when I arrived home tonight!
LeeLee and I knew today would be a long day for us both. We each have projects that are about to come to fruition this week, and today was the day for each of us to spend extra hours at work getting everything in order for the rest of the week. So though it took a few extra minutes this morning to prepare the slow cooker, I knew it would pay off in the end!
"The end," incidentally, came around 7:20 tonight, when I entered the house to be greeted by a screaming kittycat – who was two hours late for feeding time – and the wonderful aroma of one of our favorite Crock-Pot creations, cowboy stew. I came across this recipe years ago over at the wonderful Stephanie O'Dea's blog, A Year of Slow-Cooking, and it quickly became a favorite here at Chez Recessionista!
And so it came to pass that this morning, I placed some vegan ground "beef," chili beans (I can never find Ranch-style beans!), tomatoes with green chilies, Italian stewed tomatoes, tomato sauce, and two cans of small whole potatoes into the crock with a cup of water and some garlic powder and dried minced onion. (The recipe calls for corn, but I just plain old forgot to pick any up at the store this weekend! Ah, well.) (The recipe also calls for an optional garnish of jarred jalapeno slices, which I dutifully and excitedly purchased and then … forgot to use. Ah, well, once more!) Then I flicked the heat to Low and left the house for the day.
We ate tonight in shifts – I got home first, then LeeLee arrived about 40 minutes later – but we enjoyed our meals nonetheless. We served the stew with a slice of garlic bread on the side – perfect for dipping! And each of us went back for seconds, because this recipe is just that good.
And what's even better is that we've got plenty left over for lunch tomorrow! This may be the autumnal debut of my beloved Thermos – who knows? I'll keep you in suspense!
:)