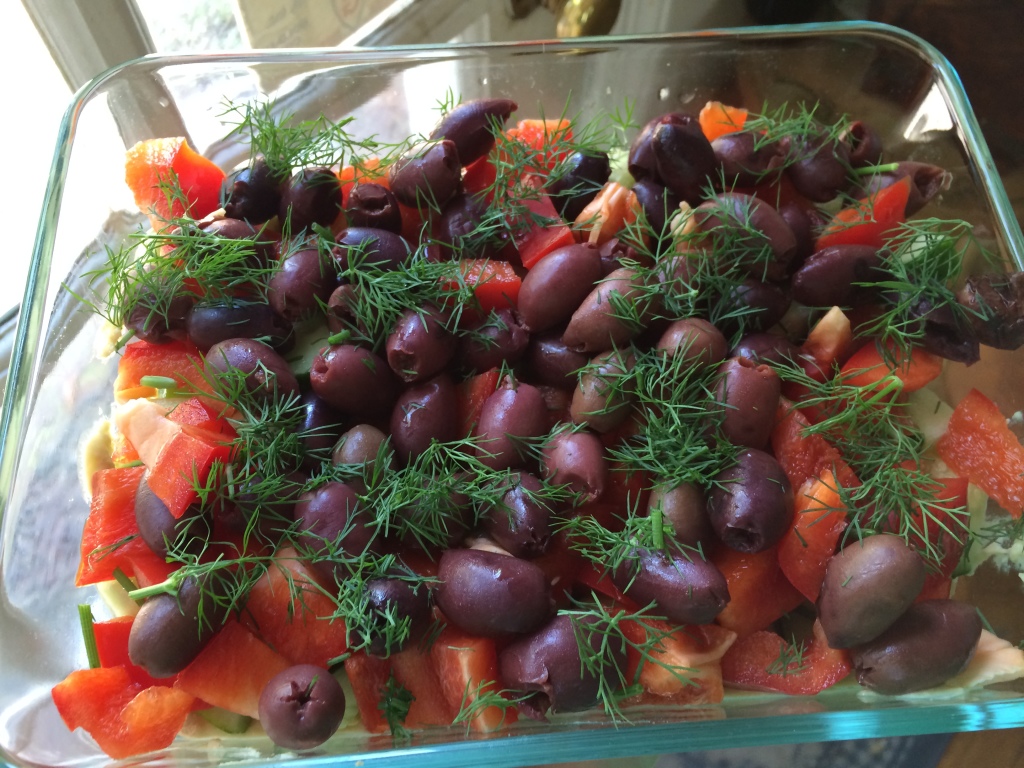 This afternoon, LeeLee and I traveled up the road to College Park, Md., tonight to visit our friends Jill and David, who had planned a fantastic all-vegan cookout to commemorate Memorial Day and kick off the beginning of the summertime season! We remembered from past experience that they know their way around a feast – it's not unusual to make our way back to the car stuffed to the gills once we've been at their place. So I knew that a before-BBQ munchie would be all that was needed on our end tonight. (Well, that and a six-pack of Alexandria-based Port City beer. As always.)
So earlier today I pulled one of my favorite Pyrex glass dishes out of the cabinet and got to work on a five-layer Greek dip that always garners rave reviews (if I do say so). I came across this recipe over on Pinterest a couple of years ago and have used it many times in the ensuing months, always with great success! It's easy; it's tasty; it's hearty; and furthermore it just looks darn pretty. Perfect for any festive occasion!
Now, one change from the original recipe: I generally omit the feta cheese as a matter of course (because LeeLee isn't crazy about it in the first place and I try to look for ways to cut caloric corners wherever I can), and tonight was no different, especially because this was an all-vegan affair. So with that, I layered a batch of hummus, a diced cucumber, a diced red bell pepper, an entire jar of Kalamata olives (the recipe says you should mince them, but I never do), and, finally, plenty of fresh dill from our herb garden. Then I covered the top with plastic wrap and put it in the fridge until it was time to go!
Once we got to the party, we served the dip with both pita chips and fresh pita bread, because why not. Our dip took its place alongside chips and salsa, baba ganoush, and all sorts of other wonderful snacks, all of which were a prelude to the main event: Veggie burgers, vegan Italian sausage, a fresh multibean salad with sweet potatoes, kebabs, and fruit skewers! With peanut-butter cookies and ice-cream pie for dessert, of course, because what barbecue is complete without a hearty dessert?
I always get tickled when people think that all vegans eat is raw carrots. Don't get me wrong, I do love a good raw veggie, but one glance at tonight's spread will tell you all you need to know about how most vegans are food-lovers to the Nth degree. Vegans and vegetarians, as a whole, just love to eat! And believe me, I am no different. Nor were the other dozen-or-so guests tonight. And we all left stuffed like ticks. :)
Barbecue, a cornhole tournament, and great conversations with good friends: What could be a better way to wind down a long weekend? Bring on the hot summer nights!
:)