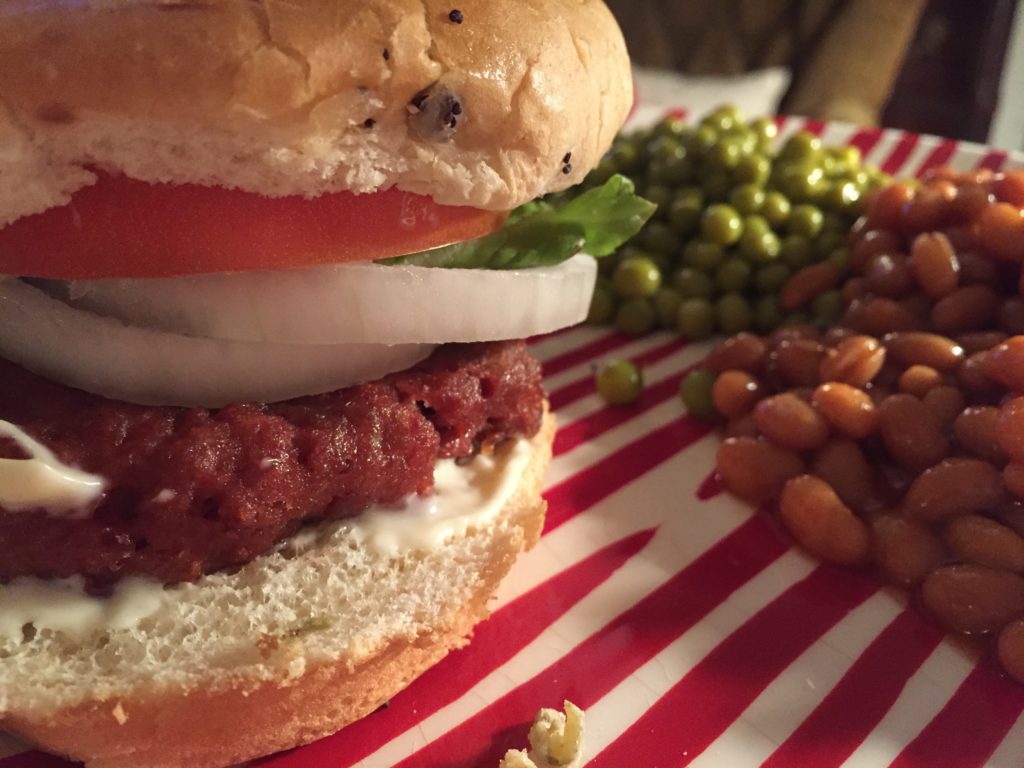 We may have lost some daylight with today's time change, but the Sunday cookouts are continuing apace regardless! It's just as easy to fire up the grill as the sun goes down, after all, and with the weather so mild, we really have had no excuses to let our grilling time fall by the wayside. So tonight I found myself piling coals into my beloved red grill this evening and lighting them up as darkness began to fall, and the final product was no worse for the wear!
Tonight, two old favorites – baked beans and English peas – were paired up with a new-to-us product, Beyond Meat's burger patties. Now, they're a bit pricy, but I spied them at the grocery store last week and knew I had to give them a try. I wasn't sure what to expect – I think I'm the only person in America who wasn't bowled-over by Beyond Chicken – but as usual, I'm ready and willing to embrace any new veggie product at least once.
So once the coals were hot tonight and the beans and peas had been on for 20 minutes or so, I pulled the two Beyond Burger patties out of their case and placed them on the grill grates, flipping them over after three or four minutes (and then flipping them BACK over again after three or four more). Then I just toasted the burger buns, pulled everything off the grill, and we put our sandwiches together.
Oh, man. These burger patties are nothing short of amazing. It's been about 15 years since I've had any meat whatsoever, but these Beyond Burger renditions were the closest I've tasted to a hearty, meaty hamburger since eschewing the real thing back in the day. For some people, the meatiness may be a turnoff, but for me, I really enjoyed the filling, even "fatty" taste of the Beyond Burger! LeeLee and I were both so impressed with the final product – especially so for me given my distaste for Beyond Chicken. We'll certainly grill with them again – maybe sooner than we thought now that we've had a taste!
:)