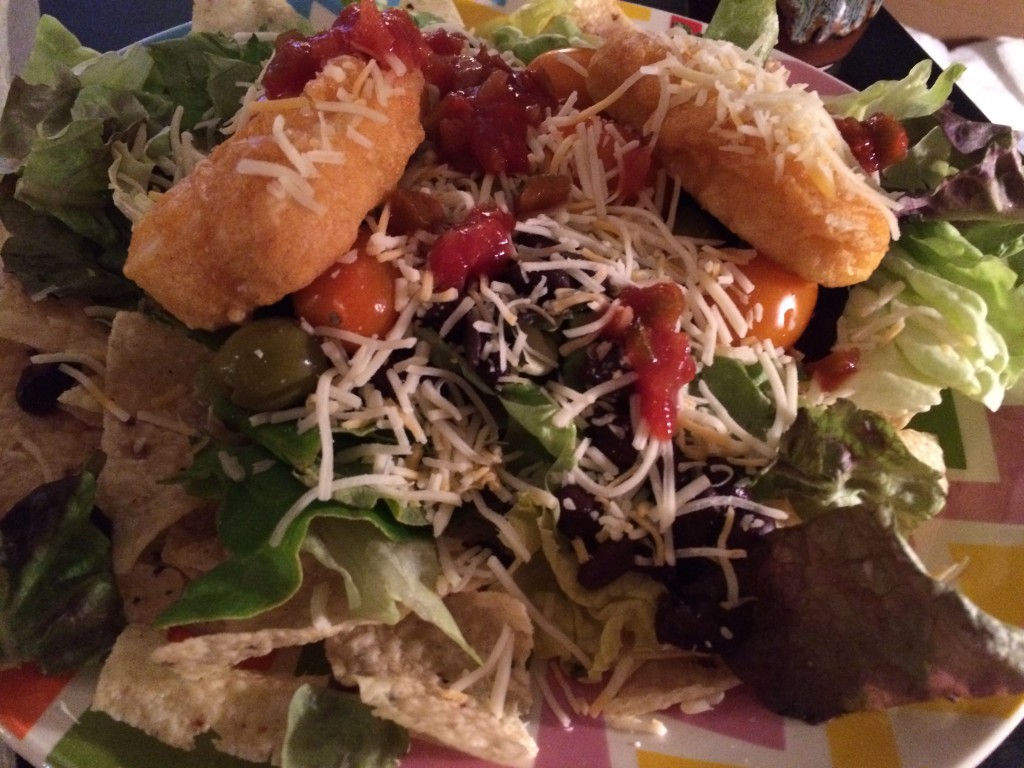 Now, as y'all might recall, last night I enjoyed a plate of good old nachos for dinner. With the caveat, of course, that I could certainly not do that every night lest I become as big as a house. So tonight I classed things up a little bit, taking the best and healthiest portions of last night's meal (with some new add-ons, as well) and making a salad that is certainly worthy of being called a Nacho Salad Supreme!
I've written about this idea before, and as advertised in my previous post on the subject, it's an incredibly versatile dish that can generally withstand any and all ingredient substitutions. Good thing, too: Tonight's end result was quite different from prior iterations, but just as good.
I started out with a (thin) layer of tortilla chips and then added a hearty helping of lettuce, then half a can of cooked, seasoned black beans (drained), then two Gardein fish filets, then a handful of grape tomatoes, and some leftover olives from this weekend's snow-day bloody Mary bar. Then I dusted the top with a little leftover shredded cheese and gave it a hearty dollop of salsa, and we were ready to eat!
To be sure, this salad makes a full meal in itself, and after a helping and a half (more lettuce and other veggies for us both!), we were stuffed and ready to … clean the basement. Well, I was, anyway; LeeLee was ready to finish the day's work. The salad fortified us both in the end, and now the basement is half an hour's worth of work cleaner and LeeLee has hung up his work hat (so to speak) for the night. All in a day's work!
:)