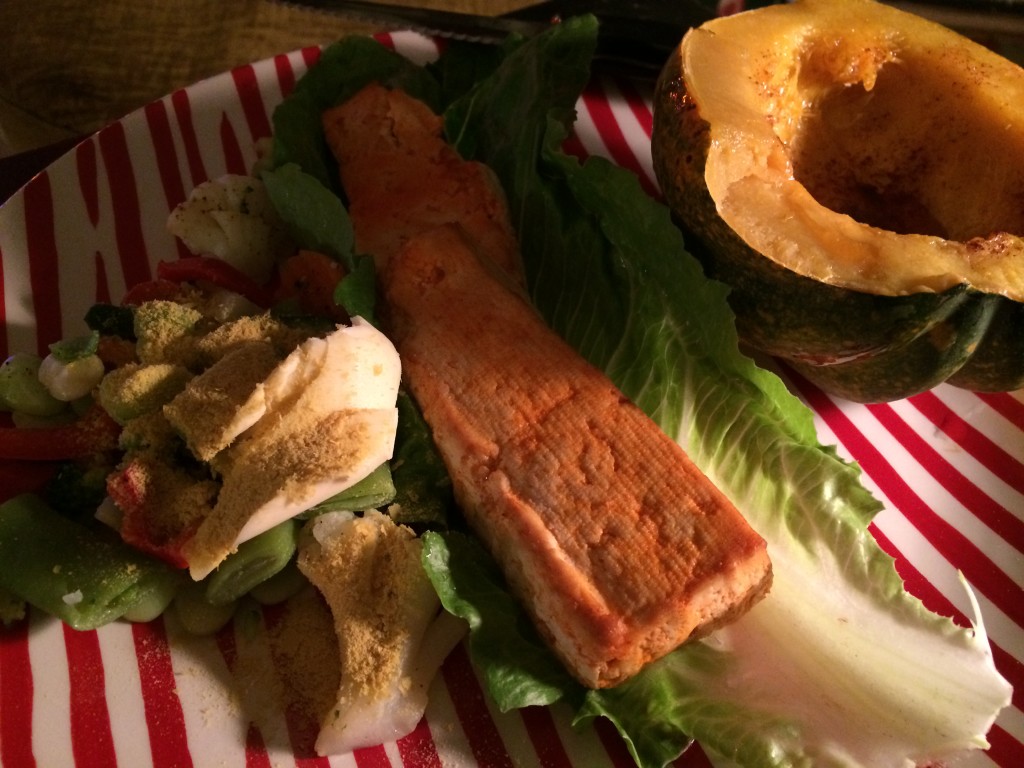 A little rain won't keep us out of service on Sunday Cookout night!
The weather's been sort of weird all day – drizzling off and on, with temperatures hovering in the not-quite-cold but not-quite-warm range – and by the time we were ready to put our food on the smoker tonight, the rain kept trickling down out of the sky. But who cares? The smoker has a dome, after all, and a little water is no match for my lighter fuel. So we marched on with our cookout plans, and I'm so glad we did!
As the smoker heated up, I sliced an acorn squash (one of our final quarries from this year's Great Country Farms shipments!) lengthwise, scooped out the seeds, and greased each cut side with butter. Then I wrapped both halves in foil, poked a few holes to vent, and set them aside while I got the tofu in order.
Earlier in the afternoon, before we went to get our Christmas tree, I cut a block of tofu into six slices and then marinated said slices in Buffalo sauce in a zip-top bag until Go Time. So when the time had come, I pulled the slices out and arranged them atop a hickory plank, where they looked so good. Good enough to eat, in fact!
I put the squash on the lower grill rack and the plank o' tofu on the upper rack, closed the smoker, and let everything cook for about two hours on medium heat. When we were too hungry to wait anymore, I heated up a bag of steamed vegetables inside, then pulled everything off the smoker.
Now, we've been eating pretty heavy this week – who hasn't? – so we decided to eschew the typical bun for lettuce wraps instead. It worked like a champ! We didn't miss the carbs and were still able to enjoy every morsel of tofu. And we had more room for the veggies and squash, so that's a bonus too.
I know that in short order, we'll be battling the snow out by the smoker, but this was pretty good practice today! We'll see how we handle the next curveball from Ma Nature whenever she chooses to throw it.
:)