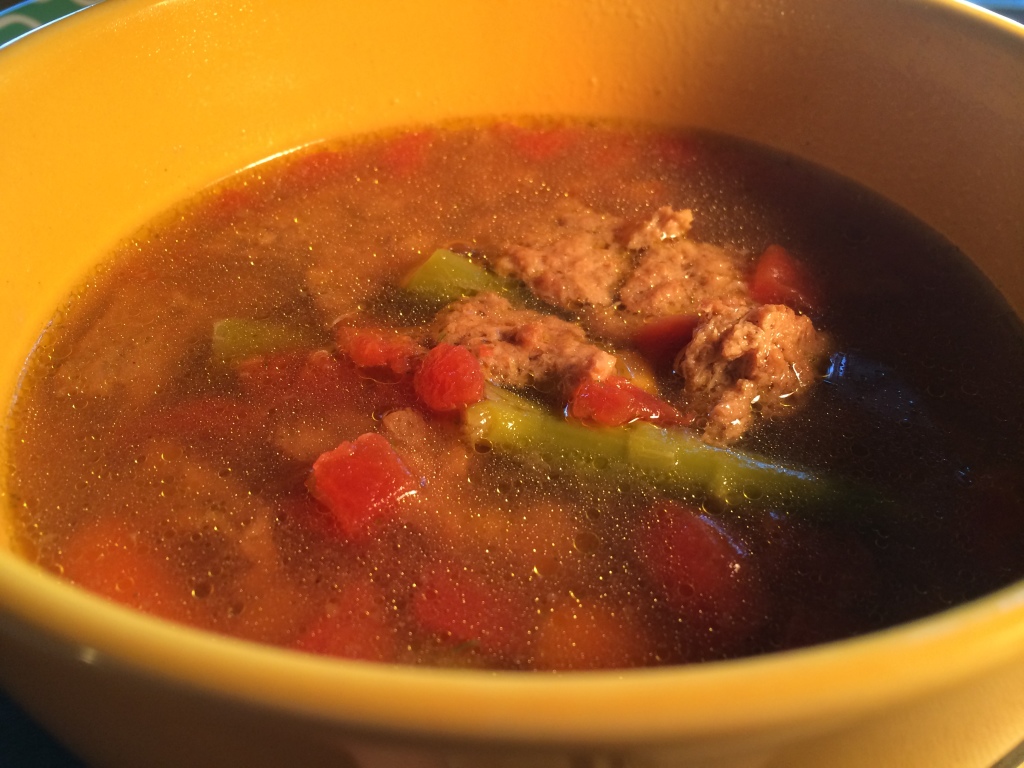 Well, if it isn't a new Crock-Pot recipe!
This morning, before work, I whipped up a new vegetable-soup ditty that includes all our favorites: Mixed vegetables, veggie-burger crumbles, and spicy tomatoes with green chilies! What could be better?
Like many of my favorite Crock-Pot recipes, this one couldn't be easier to make: Simply place a bag of mixed vegetables (we used an asparagus-carrot-corn blend) in the crockery alongside four diced veggie-burger patties and a couple of teaspoons of dried minced onion, then add in a can of tomatoes with green chilies and top with one vegetable bouillon cube and about six cups of water (instead of the cube-and-water combo, vegetable broth would also work if you're so inclined). Next, just flip the Crock-Pot to Low and cook all the day long!
By the time LeeLee and I got home from work tonight, the house had a wonderful aroma of homemade dinner, and after heating up a couple of garlic breadsticks to complement the stew, we dug right in! The final result was superb. The veggie burgers held up very well in the stew, and the vegetables themselves were crisp-tender for the most part (though a couple of asparagus spears were incredibly soft). The tomatoes with green chilies added a spicy kick to every spoonful, and the hue of onion provided a gentle overtone. The bouillon, meanwhile, had dissolved perfectly well into a lovely, rich broth.
The final analysis: We'll be making this dish again! Not a bad way to kick off the week, if you ask me!
SPICY VEGETARIAN "BEEF" AND VEGGIE STEW.
Serves 4
What you'll need:
1 bag frozen mixed vegetables
1 package of veggie burgers
1 can tomatoes with green chilies
2 tsp. dried minced onion
1 vegetable bouillon cube, broken up a bit
6 cups water
Place all of the above into a slow cooker in the order provided (water last!). Flip the dial to Low and cook for 8-10 hours.
Enjoy!
:)