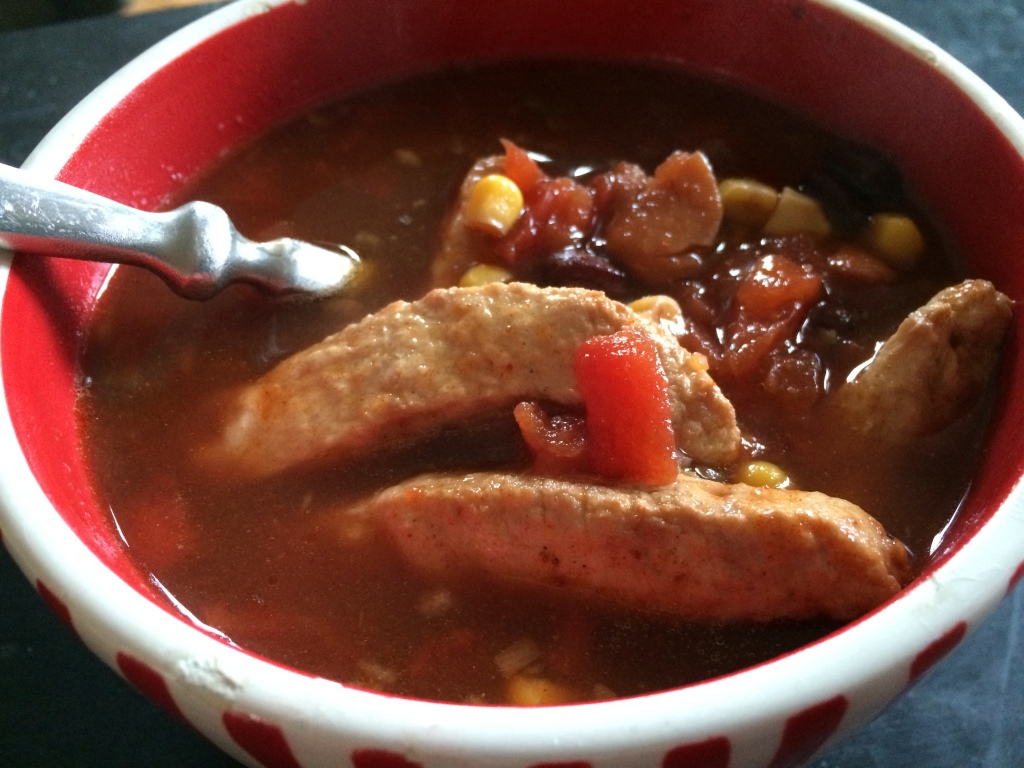 "Tacccccccoooooo Soup!" LeeLee texted me today while we were both at work. I knew then that he'd come downstairs from his home office and gotten a whiff of the Crock-Pot's contents, which had been set to Low since early this morning, stewing away. By the time I got home from work myself, the excitement had reached a crescendo: The cat was pirouetting around the living room, demanding her own dinner, while LeeLee met me at the door, both of us starving as well. Tacccccccccooooo Soup, indeed!
I've written about my favorite version of taco soup before, I know, and it remains one of my very favorite Crock-Pot meals. (Earlier this year, I even recorded a Tiny Kitchen video on the topic!) That's because it's easy to prepare, wonderfully spicy and flavorful, and makes a boatload, which helps us out in the leftovers department for the rest of the week. And it's a crowd-pleaser: One of our friends, a manager of a Mexican restaurant, came over for dinner one night and couldn't stop raving about it, saying he would be proud to serve it on his menu! (And if you know this particular friend, you know compliments like this are hard-earned.) So its fandom is legion, this taco soup.
Tonight we enjoyed our soup with Gardein chik'n strips and plenty of add-ins: black beans, chili beans, corn, Rotel, tomato sauce, taco seasoning, dried minced onion, and an entire carton of broth. We topped the proceedings with a hearty dollop of vegan sour cream, plus plenty of Daiya pepperjack shreds, then served some tortilla chips on the side for dipping. We each had multiple helpings – LeeLee may or may not have gone back thrice (yes, thrice!) – but there's still plenty left for lunches for the week.
Taco soup: It's the gift that keeps on giving! You should totally make it today.
:)