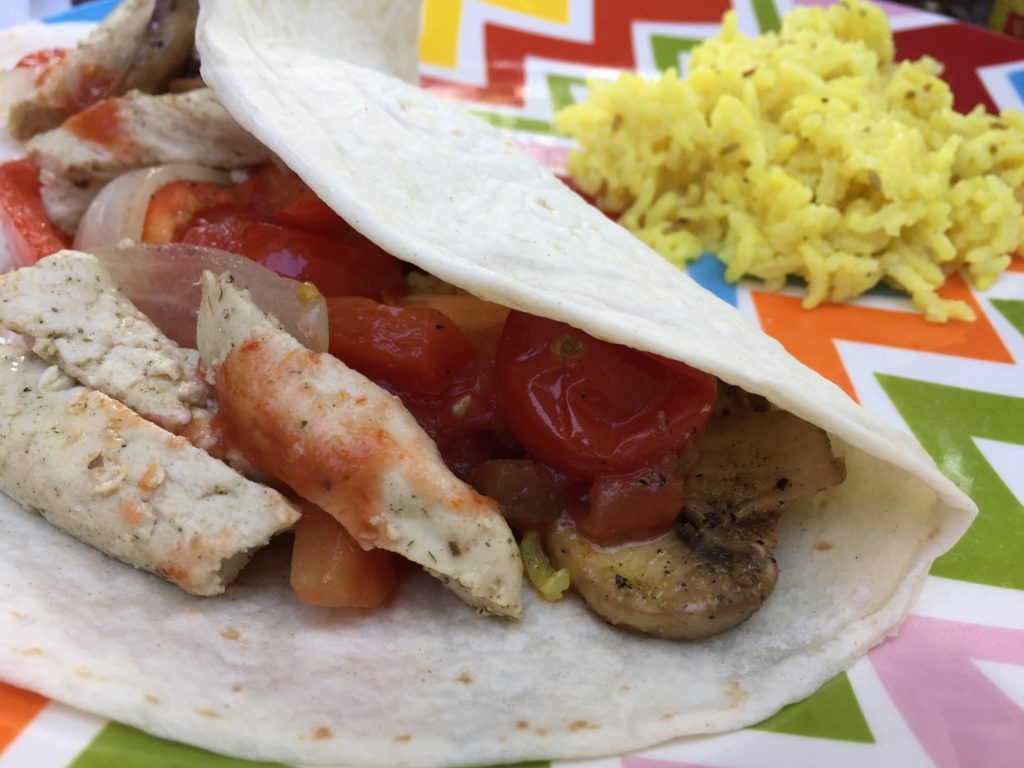 If it's Sunday … well, you know the drill. As it happened, LeeLee cleaned up the back yard yesterday morning before the heat overtook us all, and thus our grilling space was as nice as it's been in ages! We lounged about on the patio to enjoy it and, despite the heat, even elected to eat outside, because life is short even though the summer days are long!
We've been grilling a lot of burgers and veggie dogs lately – the Beyond Burger is a masterful entrée, I've got to tell you – but last night we decided to go a different route and trot out a family favorite: Vegetable fajitas! Though they do require some up-front prep work, they're a cinch to grill and keep so well for leftovers. It was a no-brainer, really.
So late in the afternoon, I prepared my fajita veggies by slicing two bell peppers into medium-sized strips, then slicing half an onion (our farmer's market onions are huge this week!) and adding them all to an aluminum grill pan. Then I tossed in about two-thirds of a container of sliced white button mushrooms and, finally, a carton of cherry tomatoes. Finally, I doused everything with a couple of tablespoons of olive oil, sprinkled on some cumin, adobo seasoning, and ground chipotle pepper, and put foil on top to seal the pan well before placing it back in the fridge until Go Time.
While I was in the prepping mood, I went ahead and added a bag of chik'n strips to another grill pan and a can of refried beans to a third. They, too, were topped with foil and placed in the refrigerator to wait their turn.
Then it was time to fire up the grill! We lounged and luxuriated in the sauna-like weather while the coals did their thing, cooling ourselves off with a Magic Hat () all the while. Once the grill was properly hot, I put on all three grill pans – the veggies, beans, and chik'n – and let them go for a half-hour or so. (Helpful tip: You really can't hurt them, so stop worrying about it!)
When there was about five minutes left in the cooking time, I wrapped four medium-sized flour tortillas in foil and placed them, too, on the grill, turning once halfway through their five-minute cooking time. Then I pulled everything back off the grates, set the table, and we sat down to eat!
And oh, what a meal we had. The vegetables were crisp-tender – not raw, but not overcooked – and the chik'n and beans had heated up quite nicely. The tortillas, too, were pleasingly warm and pliable, making the dinner feel so very complete indeed. As the grill did its thing, I'd put on a pot of rice in the rice cooker, and it rounded out the meal beautifully! We topped our fajitas with vegan sour cream and salsa and ate our fill.
And now we've got leftovers, which we're mowing down for lunch today! Fajitas never get old. They don't have a chance to around here!
Recipe details below.
VEGGIE FAJITAS
Serves 4
What you'll need:
2 bell peppers, sliced into medium strips
1 onion, sliced into thin strips
1 container of button mushrooms, sliced
1 pint cherry tomatoes
2 tbsp. olive oil
1 tsp. adobo seasoning, or to taste
1 tsp. cumin, or to taste
1 tsp. ground chipotle pepper, or to taste
1 package vegan chik'n strips, optional
1 can refried beans
1 package of medium-sized flour tortillas
Once the peppers and onions are sliced, place them in a shallow 9×9 aluminum grill pan and top with the mushrooms and tomatoes. Add olive oil, adobo seasoning, cumin, and chipotle pepper, and mix thoroughly. Place a sheet of foil over the top and wrap tightly.
Place chik'n strips into a second grill pan, add foil, and wrap tightly. (Wrapping the strips directly in foil, without a grill pan, works fine too!)
Place beans in a third grill pan, add foil, and wrap tightly.
Once the grill is hot, cook the vegetables, chik'n, and refried beans for half an hour or until piping-hot. In the final five minutes of cooking time, wrap the flour tortillas in aluminum foil and heat on the grill, flipping them over once during the cooking time.
Remove everything from the heat, assemble fajitas to your liking, and top with the toppings of your choice! Serve with some rice alongside for extra carby goodness.
:)