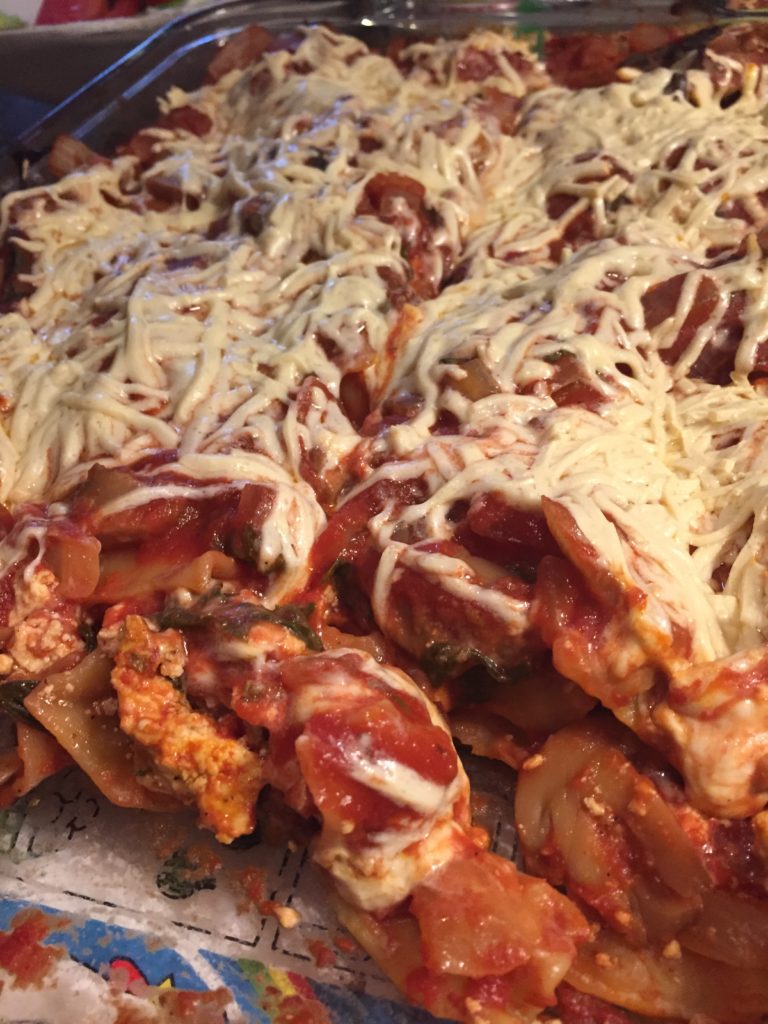 In a way, this recipe was meant to be: Due to a confluence of events, ranging from having the standard fixins for lasagna already on hand to receiving a new shipment of Swiss chard in our CSA box from Great Country Farms this week, it seems like we were destined to enjoy a new style of lasagna over the weekend! Adding further to our destiny was the fact that when we eat at home on Saturday nights, we usually cook out, but due to the extreme heat, the thought of cooking out two nights in a row (because, as you well know, Sunday cookouts are Our Thing) just made me tired.
What did not make me tired, however, was the thought of a rich lasagna paired with a delightful red wine, which we just so happened to have on hand, waiting for a special occasion. Turns out that the special occasion in question just so happened to be a Saturday night at the end of July, just because!
Now, I mentioned that the vast majority of our lasagna fixins were already on hand – everything but two ingredients, the extra-firm tofu and the vegan mozzarella. The tofu was easily procured, but the mozzarella? Well, the mozzarella gave me the runaround this time. Our neighborhood Safeway didn't have any, which isn't unusual; but then the Trader Joe's was out, which was unusual. Then, in a move that surprised no one, our local Balducci's – that of the high-end grocery chain – did not have it, not that I expected them to because they never seem to have anything I'm looking for. Finally, we sought refuge at our local Whole Foods, which keeps a passel of options in stock but which is, also, further away. Blessedly, they came through for us. Hooray!
With the mozzarella squared away, everything got back on track. So when we started feeling peckish, I got to work on dinner. First, I put two cans of tomato sauce in a pot to heat along with the chopped Swiss chard, half a jumbo onion (a whole medium onion would also work quite nicely) and some garlic powder, basil, oregano, salt, and pepper.
As the sauce cooked, I prepared my tofu to take on more of a ricotta undertone. I crumbled up a block of extra-firm tofu into a large bowl and then spiced it with salt, pepper, oregano, garlic powder, and onion powder, mixing everything together with my hands until the spices were combined to my liking. Then I let it sit while the sauce finished cooking, which took about 20 more minutes.
Next, it was time to put everything together! I started with a touch of sauce on the bottom of the lasagna pan, and then added a layer of lasagna noodles (no need to boil them first). Then I layered in the full caboodle of tofu ricotta, then half the remaining sauce, then half the mozzarella, then more noodles, then the remaining sauce, then one more layer of mozzarella.
THEN I baked the whole shebang for an hour at 350 degrees (I guess you could preheat your oven, but I never do), and lo and behold, it was ready to eat!
Hey now – this preparation takes some of the earthiness out of the Swiss chard and makes it much more likely to play well with others! LeeLee and I both loved the depth that the chard gave to the dish – while it lost some of its earthiness, it did keep its tang – and the tofu ricotta held up its texture so very nicely. We liked it SO much, in fact, that we each enjoyed two servings! Along with a simple salad and some fresh bread (thanks to that late-breaking Whole Foods run), we had a meal to rival anything one could order at a restaurant. If I do say so myself. And I believe that I do.
Recipe below!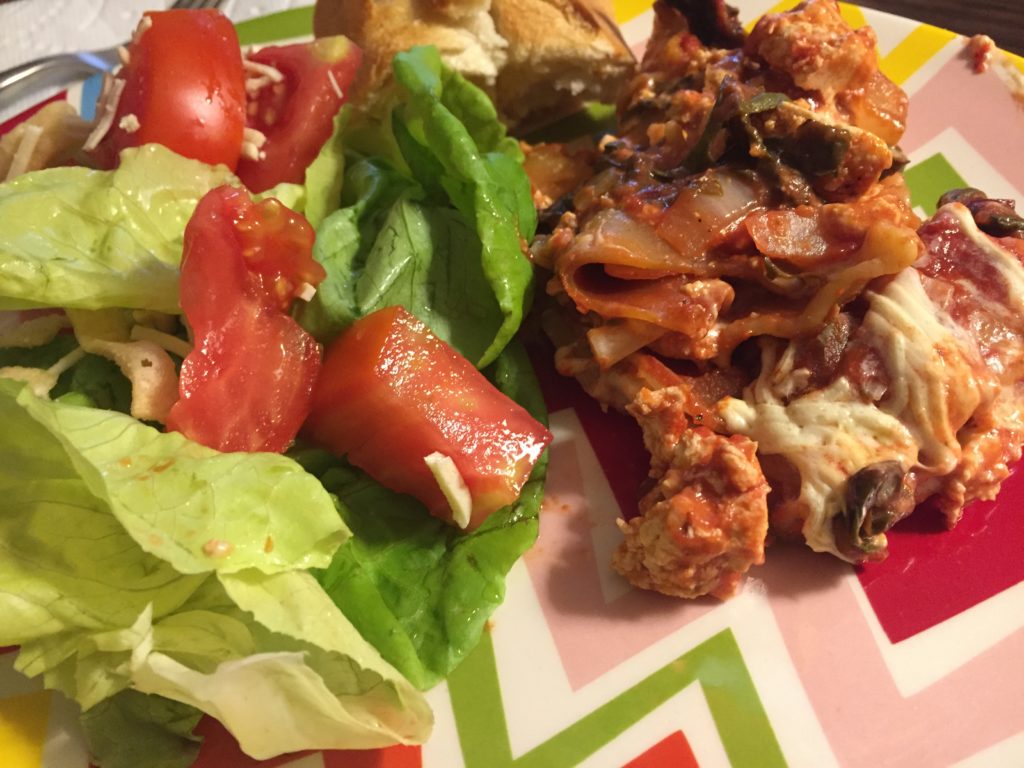 VEGAN SWISS CHARD LASAGNA
Serves 6-8
What you'll need:
2 cans tomato sauce
1 medium onion, diced
1 bunch Swiss chard, chopped
2 tsp. garlic powder
2 tsp. salt
2 tsp. pepper
2 tsp. oregano
2 tsp. basil
2 tsp. onion powder
1 block extra-firm tofu, drained and crumbled
1 box lasagna noodles
1 bag vegan mozzarella
Combine the tomato sauce, onion, chard, 1 tsp. each of garlic powder, salt, pepper, oregano, and basil in a medium or large saucepan and heat on Medium for 25-30 minutes.
While the sauce cooks, prepare the tofu ricotta by crumbling the tofu into a large bowl and adding 1 tsp. each of the garlic powder, salt, pepper, basil, and oregano, and all of the onion powder. Top with a drizzle of olive oil and mix thoroughly. Let stand while sauce finishes cooking.
Once the sauce is ready, it's time to layer everything up! In a lasagna pan, layer a thin layer of sauce, then a layer of uncooked lasagna noodles, then the tofu ricotta, then half the remaining sauce, then half the mozzarella, then more noodles, then the remaining sauce, then one more layer of mozzarella.
Bake at 350, covered, for an hour. Enjoy!
:)