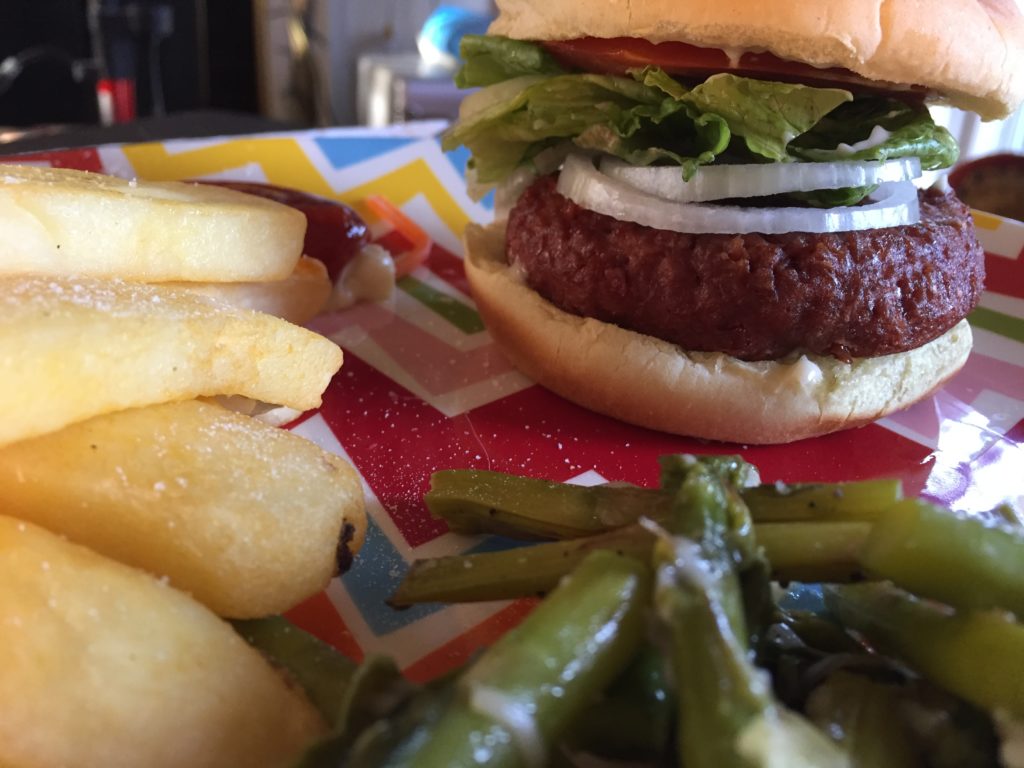 Well, friends, tonight's cookout was a bit protracted in nature. As I write this, poor LeeLee sits in traffic down Interstate 95, having urged me to go ahead and grill and then have dinner before he arrived home from a weekend in North Carolina. He was supposed to be home at 6; it's 7:30 now, and Siri tells him it will be another 20 minutes at least. I think, frankly, he is afraid he will never make it home, that he will have to start a new life alongside the interstate somewhere between Fredericksburg and here. But still his dinner keeps vigil, resting as it does on the countertop. One day he will return to us, and when he does, I want to be ready.
This cookout was also protracted in another way – I've been looking for the Beyond Meat burgers for weeks, to no avail until recently! And guess where I found them? In the meat refrigerated case at Whole Foods, where one would go to select one's beef hamburger! No wonder I've been missing them for a while; I can't remember the last time I went past the butcher area. But there they were, just hanging out, a beacon in the night (or on the shelf). And I was thrilled at their presence and purchased them straightaway.
Now, two things you should know about these burgers: They are not cheap, so don't go throwing one through the grill grates by mistake like you do with some of the other brands (no? just me?); and they taste incredibly like real meat. They're also not a Dieter's Special, which is fine, because that's not their calling in life in the first place.
Before I pulled them out of the fridge tonight, I prepared the asparagus sauté, which was going to cook in a grill pan for half an hour or so. I chopped a bunch of asparagus stalks into four equal parts, then chopped a ramp – those wild leeks that only exist for about three weeks out of the year – and added it to the pan along with some salt and pepper, because why gild the lily? Then I put them on the grill for a half-hour, and then turned the oven to bake a pan of steak-cut French fries at the same time.
When I had about 12 minutes left in the cooking process, I added the Beyond Meat burgers to the grill and flipped them every 3 minutes until they browned up a bit like real meat. You should see the fat drip off them – it reminded me of the cookouts of my childhood! Again, this is hardly a "light bite," but that's not the point. The point is a great cookout with good food – and that's what we got tonight.
I chowed down with gusto, and I know LeeLee will do the same when he arrives (any minute now, right, Siri?). Beyond Burgers will definitely become one of my go-to cookout staples – now that I know where they're hiding!
:)