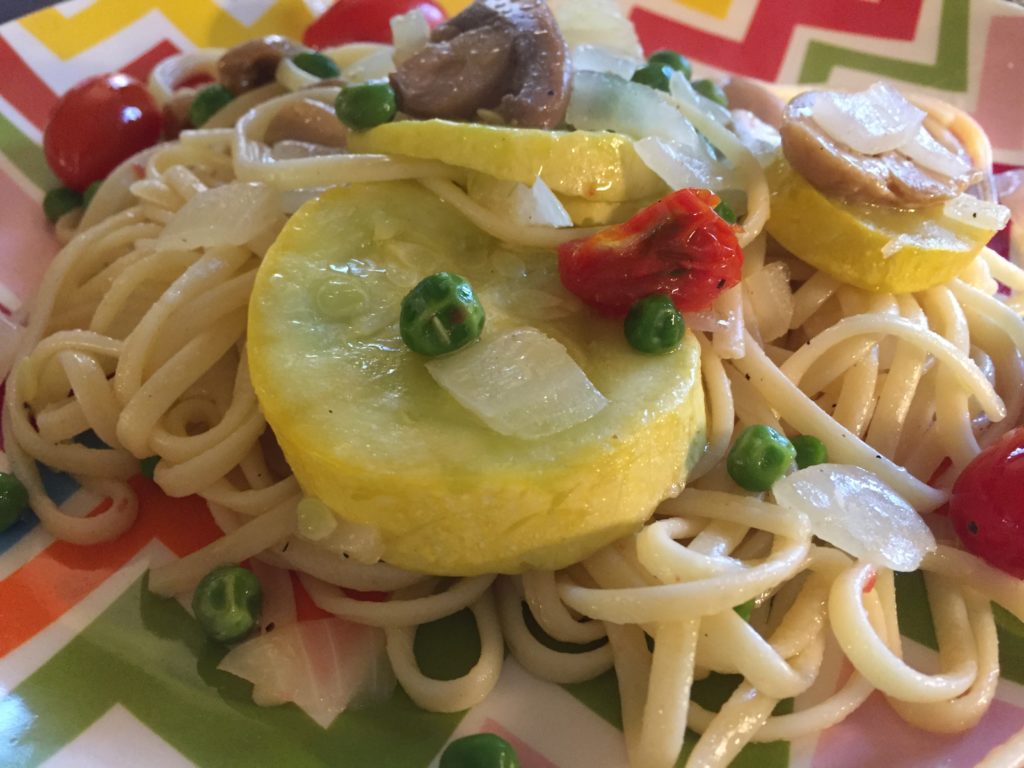 I've written about this recipe before, and it never fails to disappoint. (The recipe, that is, not necessarily the writing.) And though I call this dish "Springtime Linguine" for the purposes of the blog, I actually call it "Erin Linguine" at home, because it was my friend Erin who first made this dish for LeeLee and me about 100 years ago. It has aged well – sometimes better than LeeLee and me (but don't tell him I said so)!
At any rate, on Thursday night I was craving something carby but fresh, and when that combination comes across my radar, I know that this linguine dish will settle the score. So after I got home from work and caught up on some "General Hospital" (don't judge!) while LeeLee was at a meeting, I rolled up my sleeves and hopped into the kitchen.
The prep work for this dish is a cinch: Boil some water, add the linguine, and as the pasta cooks, sauté your vegetables. You can use whatever you've got on hand – our cast of characters changes with the months – but this time we used onion, yellow squash, sliced mushrooms, a handful or two of frozen peas and cherry tomatoes, each added in turn, beginning with the onion and finishing with the tomatoes. I was liberal with the olive oil, since it was really the binder for the whole dish, and heavy-handed with the black pepper (I tried to pump the brakes on the salt).
Once the veggies had softened up nicely (and, incidentally, the cherry tomatoes became balls of molten lava, which we would learn upon eating the meal), I added the linguine to the pan one or two scoops at a time, tossing everything around to let the olive oil soak into every strand of pasta. Then we piled our plates high, garnishing them with some fresh herbs and vegan parmesan and, for me, some nutritional yeast as well. Because everything is better with nutritional yeast!
As usual, we mowed down our meals and went back for seconds, and as usual, this linguine was so satisfying and so hearty that even after we joined the Clean Plate Club, we still had tons left for lunches. Erin Linguine comes to the rescue again!
:)