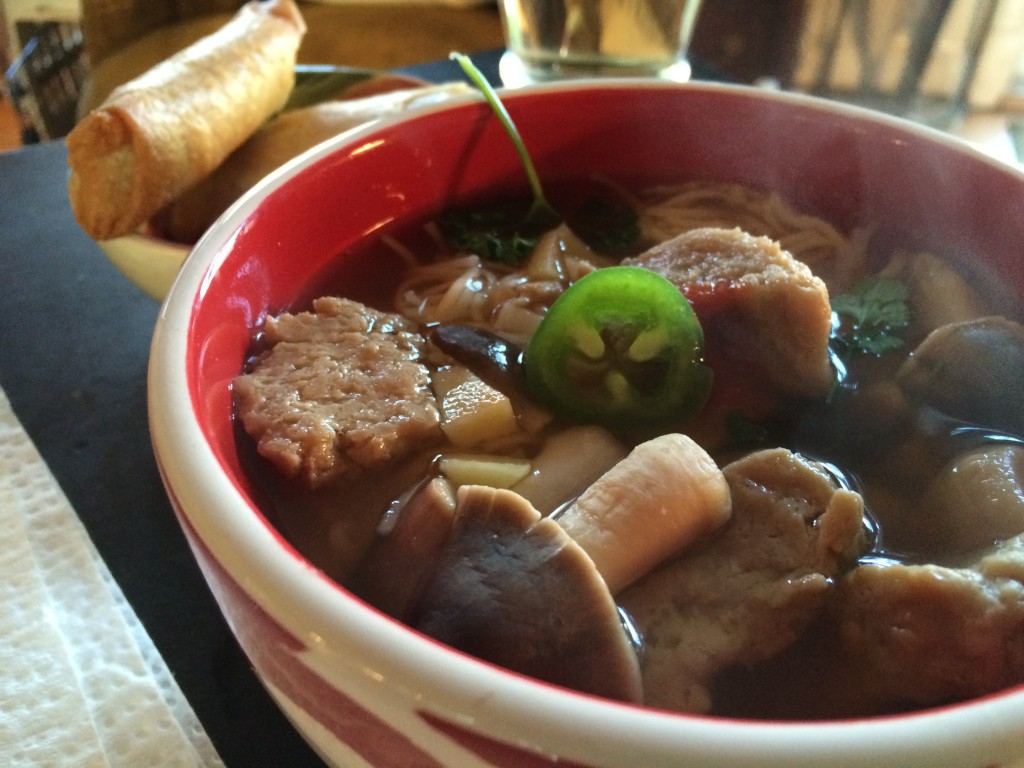 Today started out as a decidedly Pho Day, what with the frosty morning temperatures and whatnot. As the hours ticked by, though, the climate warmed up a bit and I found myself shedding my jacket, but no matter: Pho was already seared firmly into my brain, and there was nothing I could do about it.
With that difficult decision made, I came home from work, gave the cat her fluids alongside LeeLee (which works much easier now that we've learned we can just serve her dinner while we stick her with a needle!), and began Pho Prep.
First, I minced several tablespoons of fresh ginger and two cloves of garlic. I added them both to my trust Le Creuset and then threw in a star anise pod for some authentic Asian flavor. Then I poured in a carton of veggie broth, plus a little extra water for good measure, and added a parcel of cubed seitan. Once things got to boiling, the seitan looked a little lonesome, so I added a can of Asian mushrooms and the pot seemed much more lively.
Now, this is probably a good time to say that I sort of made this recipe up as I went along. We typically enjoy tofu with our pho, but I was craving a more "traditional" (and I use that loosely, since we're vegetarian) pho with a meatier texture. Enter seitan, my hero of the ages! And it didn't disappoint.
When we got closer to dinnertime, I heated up a pot of water and added in plenty of vermicelli noodles, which cooked up in an instant. We drained them, flipped off the switches to the stove, and got ready to prepare our pho!
First into the bowl were the aforementioned noodles, with plenty of seitan-and-mushroom broth ladled on top. Then we busted out the add-ins – jalapeno slices, parsley and cilantro from the garden, lime wedges, and a hearty dose of Sriracha! And then we sat down to eat.
Wowza! This pho was so meaty, so hearty, and LeeLee kept repeating over and over how this was the best pho I've ever made. Now, I tend to take some of those proclamations with a grain of salt – LeeLee is often complimentary, and I really appreciate that – but this time I do have to agree with him. This pho really got to the essence of what the dish is supposed to be about – at once earthy and light, filling but not overly so, a blend of bright broth and fresh noodles and chewy, happy protein. We both devoured several bowls (and I even went back for a spoonful of noodles by themselves, just because!).
On the minus side, there's no broth left over for lunch tomorrow. But there are plenty of noodles, and I feel sure we can find a use for them!
:)