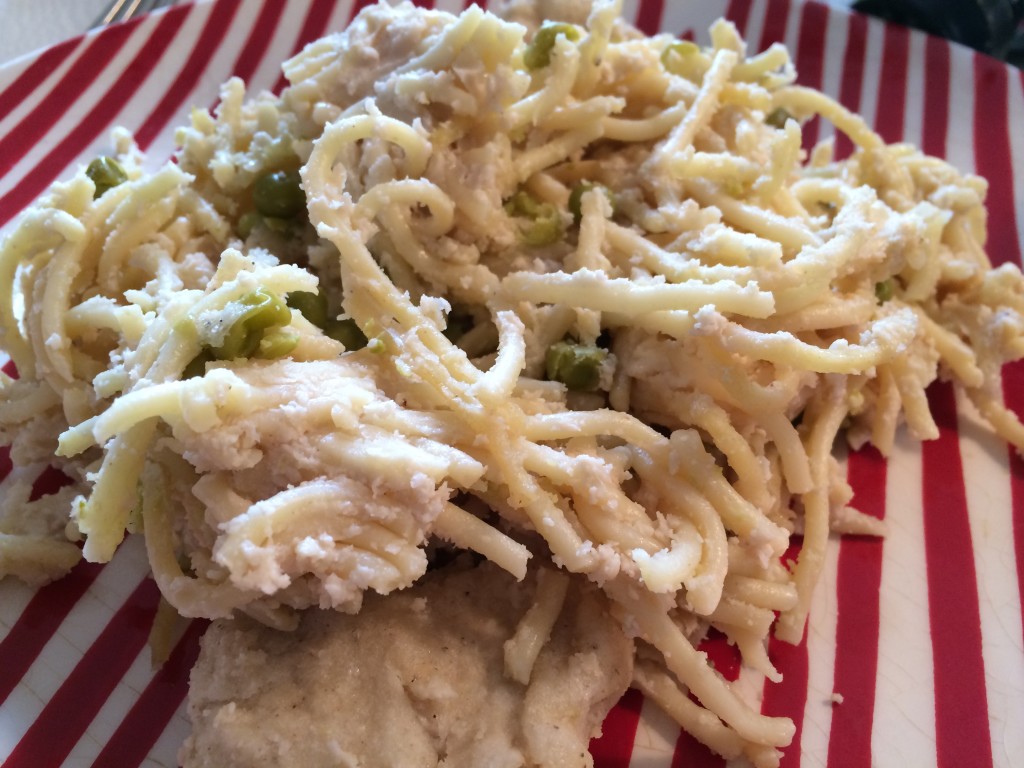 Now, I'm going to let you in on a little secret regarding the inner-workings of this meal: I made it last night and put it straight in the fridge for today! Sure, it was a bit of a pain to haul myself back off the sofa once I'd gotten good and comfortable last night, after already making yesterday's dinner, but I knew that time was short this evening after work and before LeeLee's nighttime meeting, and I just could not abide by picking up takeout just because of my laziness.
So I crawled off the sofa and into the kitchen to create a new-to-me meal: American Tetrazzini from the Make-Ahead Vegan Cookbook by Ginny Kay McMeans. This dish has it all – a creamy sauce with a cashew base (who knew, right?), blended with spaghetti and baked for a half an hour. AND you can make it ahead of time and store it in the fridge or freezer! Which is exactly what we found ourselves doing at 9 p.m. last night, and let me tell you, though I groused a little about it at the time, I couldn't have been happier today when I got home from work and immediately put dinner in the oven before corralling the cat for her nightly fluid treatment. (Which went better than last night, I might add! One stick, three minutes of drip-bagging, and it was over!)
Anyway. When I got home tonight, I simply pulled the pasta out of the fridge, dumped it into a lasagna pan, mixed in a can of English peas (because why not) and Gardein chik'n strips (because also why not), covered the pan with foil, and put it in the oven to bake for 25 minutes while LeeLee and I tended to the cat. Turns out we had an extra 22 minutes to kill after our cat-wrangling duties had concluded for the evening, so we sat around listening to Prince songs (may he rest in peace).
After the 25-minute baking time, I pulled off the foil and noted that some of the pasta near the middle of the pan was still a bit tepid, so I baked it for another 7 minutes and voila! Perfect tetrazzini. LeeLee and I mowed down two servings apiece and were thrilled to note that there's still plenty left for tomorrow! The make-ahead meal that keeps on giving!
:)