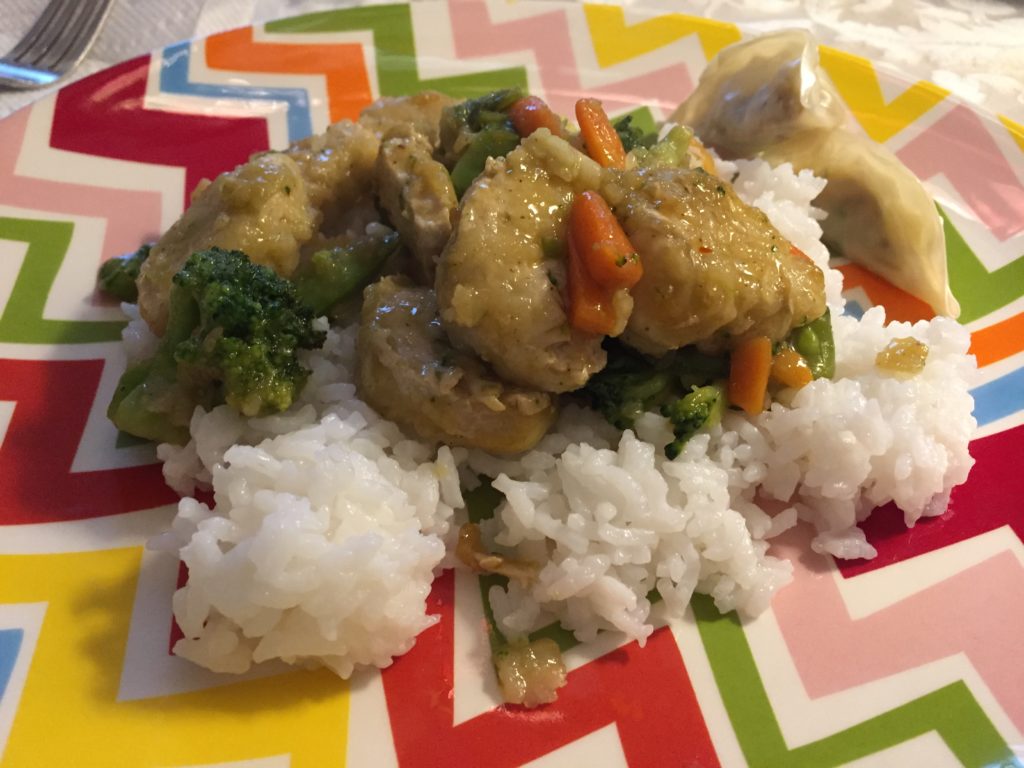 "We have a couple of choices for dinner," I texted LeeLee from work this afternoon. "We have a 'beef' casserole and some other thing I can't remember."
That other thing I couldn't remember was in fact one of our favorite dishes of late – vegan mandarin chik'n with stir-fry veggies! In fact, I'm ashamed that I couldn't remember it – this dish deserves respect. But though I couldn't quite call upon it in my brain at work earlier today, I was all too eager to whip it up when I remembered in the car halfway home.
The prep work couldn't be easier, and some of that is due to the Gardein mandarin chik'n that serves as this meal's anchor. Simply put a couple of tablespoons of vegetable oil in a frying pan or wok (I used the most wok-shaped pan I have), then put the heat to Medium and put the chik'n in to heat up and brown. Once it's nearly ready, add a bag of frozen Asian stir-fry vegetables and crank the heat up to High to get them ready in no time! And finally, once everything has heated through, add the accompanying bag of Gardein mandarin sauce, tossing to combine.
Serve the stir-fry with a waiting rice cooker full of white Jasmine rice and you've got a meal to start the week off right! And if you've got some frozen spring rolls or dumplings in the freezer – we had the latter, left over from a recent sushi night – so much the better. Heat those babies up and sit down to a Monday-night feast!
:)